Standard Replacements Parts
Paragon provides standard replacement parts for rotary regenerative air preheaters. These products undergo the same stringent manufacturing processes as all our products and are built to meet or exceed original equipment manufacturing requirements. We are proud to provide a full line of replacement parts for the air preheater.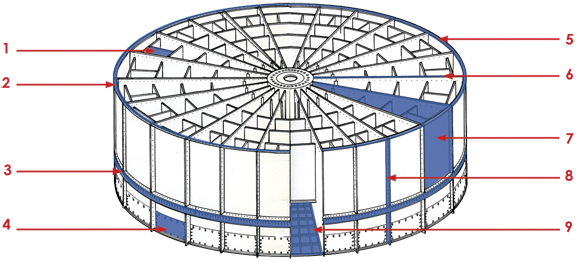 1. Diaphragm, Stay Splitter
We will build any rotor assembly sub-component individually or as complete sets.


2. T-Bar Assembly
Quality assured, Paragon T-Bars and support angles are available for all sizes on hot and cold ends.

3. Pin Racks
An improved metallurgical product. All pins are heat treated throughout their thickness for an extended life improvement over past induction surface hardening techniques.

4. Shell Plates and Covers
We will provide a partial or complete shell plate replacement specific to the needs in each contract. Each shell plate is rolled to an exact radius for ease of replacement and fit.

5. Circumferential / Bypass Seals
The circumferential seals prevent air and gas from bypassing the heating element through the space between the rotor and the housing shell. They are retained by mounting angles bolted to the circumference of the rotor. The circumferential seals wear against the sealing rings, which are welded to the housing of the airheater. The bypass seals are mounted on the housing and seal against the rotor mounted T-Bar.

6. Radial
Radial seals are used to minimize the direct air to gas leakage that occurs across the sector plates that separate the air and gas sides of the airheater. The seals are attached to each diaphragm of the rotor to maintain close contact with the sealing surface that separates the air and gas streams.

7. Airheater Rotor Modules
Modular-constructed airheater rotors bolt to the center post for fast field erection. Paragon can design and produce a complete range of replacement modules for all or modular rotors. Modular designs include:

• Complete frames
• Sub-component assemblies
• Modules with installed basketed element

8. Axial Seals
Axial seals are used to minimize air leakage that can travel around the circumference of the rotor.

9. Gratings
Support gratings are a major structural steel member for rotor compartments in horizontal or vertical design airheaters. Paragon can provide a complete range of grating assemblies at a competitive price.